School is out today, and Jessie has hurt her back, so today was DADDY DAY! This morning we had SO much fun. We played a game where Jude and I were bad guys who kept fighting. Eventually in the fight he lost a tooth:
Merrick and Haddie were police ladies who broke us up. Turns out they were actually fairies in training trying to earn their wings through bravery! They were twin sisters named Rusella and Stella. They took me to a fairy hospital where Stella worked dilegently on bandaging my broken arm: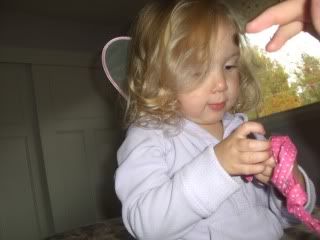 ]
Rusella then decided that my ribs were gravely injured and the only way I could ever heal would be by the magic of fairy song. It was actually beautiful. Enjoy:
We are now hanging out in the den, waiting to go see Megamind 3D. It is a good day.