SO……before I type this entry…..it is quite weird typing about Africa, as the snow pours down outside! Yup….white snowy day in Medford! Anyway…back to
"TALES FROM UGANDA":
12/30/07
This is a day I will always remember. It is special in my heart. I cannot do justice trying to explain it, but I will do my best! It was our 1st time to worship with the Africans!!!! After a nice breakfast, we went to services at Ft. Portal Church of Christ. Here are the only 3 words that can do ANY justice: OH MY GOD!!!!!!!!!!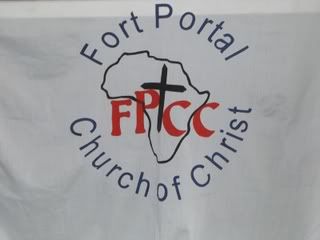 The meet at a place called Buhinga Primary School. So, we went there early to help Jeff and crew set up chairs, communion etc. There were already several locals there helping. We were greeted with the most gorgeous smiles! (you'll hear me talk about their beauty quite a bit I am sure). These are a few of the folks I met: Diana, Sunday, Jasper, Switzer, Samuel, Bright, Martin Luther…..
After set up, they served Chai and bread, and we all just spent time visiting. Once the service began, I was in heaven! Derrick is a great song leader…no so much because of his voice, but because of the pure passion he has while praising. It was beautiful. I could not sing without crying. We were so excited! On one song, Greg got jumping…..it was brilliant! :) Everything was perfect…the communion, Derrick's meditation, Earnest serving the Lord's Supper in his tribal robes…… I LOVE AFRICA.
We go to break up in groups before the sermon and pray for one another. I had the privilege of praying for Tinka Sunday, Switzer and Patrick. I prayed for jobs, a wife, peace in homes, help in university and financial peace. It was a huge privilege to be a part of that prayer group.
Afterwards we went to lunch at the Mountains of the Moon Resort. It is a GORGEOUS place, and I felt almost guilty eating there. But, if you are ever in Fort Portal, Uganda get the tomato soup there!
The rest of the day was spent at the new church property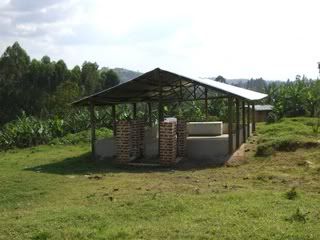 where we prayed for God to bless the future there, and then at the new rest camp the church purchased at Lake Nyamarima…….a GORGEOUS place!!!!!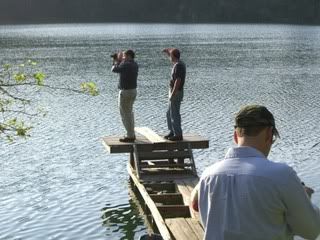 Twas a great day….and tomorrow begins set up for FAITH QUEST UGANDA!