After leaving the lovely airport in Amsterdam with its' duty free shops of useless junk and mystery doors, we set sail (in the air of course) for Entebbe, Uganda. This particualr airport has QUITE a history! Maybe you've seen "Last King of Scotland"? In 1976, Israeli commando forces raided this very airport and rescued 100 Israeli/Jewish hostages. It was quite an amazng military event. Needless to say, they have used the 32 yrs. since then to clean up the place and plaster in all bullet holes. Still.....it doesn't look TOO different.
Once again, not much sleep on the plane.....but now I am SO excited it does not matter! I am in friggin' Africa! We get in line to get Visas into the country....and actually, it was easy. Too easy, almost dissapointingly so......and we arrived with 13 of our 14 bags and crates...so all things considered, that was not too bad (although we later find out the missing crate had some expensive sound equipment for the church).
Jeff Cash and Andrew Martin, the local missionaries (aka the Vet and Rookie) were waiting for us with 2 young men from the local church: Khanyoro Derrick and Assimwe Patrick. Here my new friends are:
"You are MOST welcome" they told us. It was our 1st lesson in Ugandan respect and service.......they REALLY take service seriously. They would not let us carry or load any of our bags.
So we threw the bags into the truck with the 2 Ugandans and we climbed into the brand new Land Rover (complete with the God blessed invention of AC!) and went to check into our room at the Central Inn in Entebbe. It was a decent little place. The rooms, by African standards were nice. A small simple bed, a mosquito net, a fan (provided there is power that day) and running water (Geckos are complimentary). Here is pic of Greg and I outside our room and a view of African accomodations: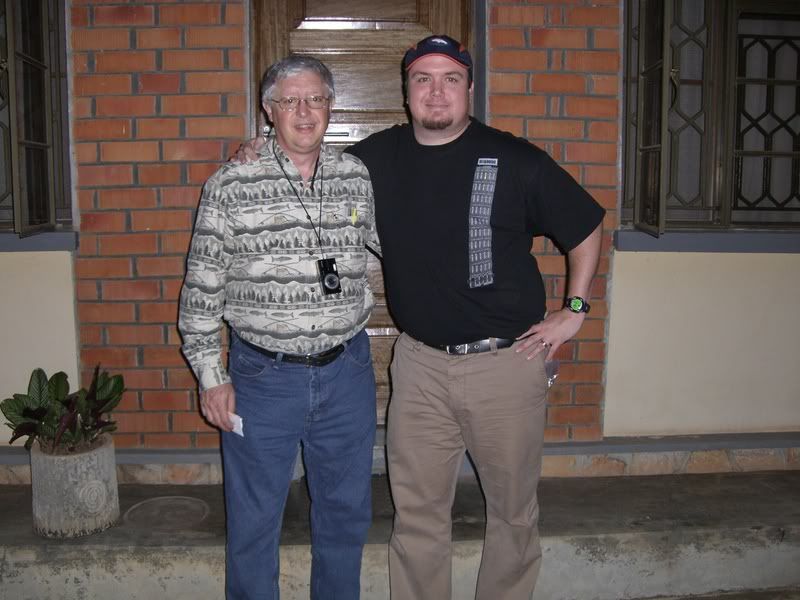 Afterwards Jeff took us to dinner at another nearby restaraunt/hotel. It was 10:30 at night by now, but they kept the place open just for us. We had our 1st taste of African food (tougher meat, no spices or flavor, but not bad)...Derrick and Patrick shared some amazing stories with us (do you know how Africans cure hangovers???????) as did Jeff, who we found out is possibly the COOLEST dude on the planet and has literally done EVERY manly thing you ever dreamed of!
Around midnight, we finished (Africa does not run on a tight schedule...especially when dining) and went back for a good night of sleep. It proved quite difficult as I was jetlagged, excited, etc....but eventually I fell asleep for a few hrs (turns out I cannot sleep good in Africa!).
As I lay in bed I could not stop grinning: I was in Africa! A dream was coming true! THANK YOU GOD! I have NO CLUE what lies ahead of me, but I knew I was glad to be there and that I was ready to let God use me.....................
Join me soon for more "TALES FROM UGANDA"