After about 4 hrs of sleep, I woke up. I feel a little better, but still not all there yet. The ol' stomach is better, but just having serious hot flashes….man I need to get in better shape! Oh yeah-------------HAPPY NEW YEAR!
I got to pray a lot last night as I lie there sleepless, so that was good. I haven't just sat in quiet like that for some time. I spent the morning talking a little to Cheryl and Aimee Jo about the female take on local culture. It was quite interesting. Their youngest son Silas made me a drawing….what a prize!
Around noon, I really wanted to be out at the camp, but had NO clue when I could get there. SO I went on the back porch to work on some lessons and sermons for the coming weeks. The fresh air had an instant effect! Amazing what some some sun and o2 can do! Outside I got to spend a lot of time with their oldest child, the beautiful Kinley. She is SO precious and beautiful.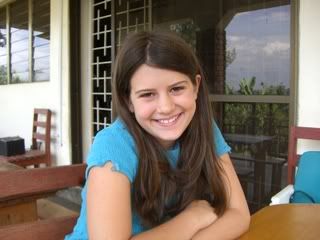 Just before 2:00 Andrew showed up much earlier than expected. I was ecstatic! I still did not feel too great, but I was determined to get to camp! The kids would be getting there soon and I did NOT want to miss that. The drive was LONG. The road was as if it had been bombed! The potholes could swallow my little Aveo whole!
It was awesome….we left any semblance of the "city" and were very quickly in rural Africa. With the windows rolled down you could hear the beautiful chorus of kid's voices singing out "HOW ARE YOU" and the occasional "GIVE ME MONEY". At times I couldn't even see them, but just just hear voices ringing from the trees!
Upon arrival I got all set up in my tent.
And soon after the check-in started.
It was AWESOME! Greg and Matt did a great job. They were swearing in the kids…as the theme was sort of a military one: "Aluta Continua"(the struggle continues). They LOVED it! They got really into Greg's famous antics! Their salutes were accompanied with HUGE smiles!
Next, they ran through the obstacle course that Johno had designed (ask him about HIS run through it :) They played with SUCH zeal and NO attitude! It was so cool to watch them…and notice that teens are teens anywhere in many ways!
After getting set up and settled, we had dinner and shortly after came the big moment: FAITH QUEST UGANDA STARTED!!!! We prayed over JohnO as a team, and he shared and painted.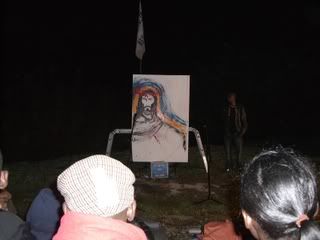 It was very impactful on the teens. Next, we praised God together in song. OH MY!!!!! Once again, the tears flowed freely! And then came the coolest thing ever!!!!! The Rwebisengo Choir performed!!!! There are NO WORDS to describe this. Their voices, their power, their dances, their drums……IT WAS AMAZING! Pretty soon I will have a link up for you to be able to watch them I promise! It was truly AFRICA!
The night ended with Jeff welcoming everyone and cracking some odd Ebola jokes! Praise God……..this is going to be amazing!