Before I begin today's continued saga of African tales….I HAVE to say something about that Superbowl. It was AMAZING! That game was incredible!!!!!!!!!!! I hope you all got to watch it and see the greatest Superbowl in years!!!
Okay….now back to the action….
January, 2008 – Preaching in Africa!
Wow…sleeping in a tent in the African "wilderness" is interesting! This city boy is not used to THAT many animal noises! So…here we go. Day two is here! After breakfast, a young lady named Doreen led some worship songs. It was WONDERFUL! She would punctuate verses when excited with these incredible noises…a shout of joy….that was this throaty yelp like….well I cannot explain it. You just had to be there! Here she is: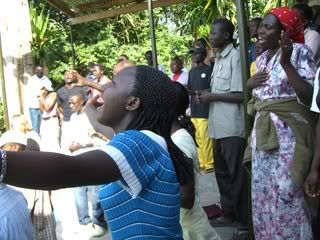 After that, I preached my 1st sermon in Africa!
It went OK, I guess. I found out that working with an interpreter is tougher than expected! Many of the concepts do not translate very well, especially in Swahili, but I will know better next time! It was a great privilege and they were so attentive and encouraging.
After a short rest, and continued sign-ups (Jinja got in late last night), we mingled with the teens.
As we did this, I saw a kid with an incredible shirt on. He was wearing an Ashland Grizzlies jersey! That is a high school just some 15 minutes from me!!!!! And here, this kid from Africa was wearing it! What a small world huh?!?!?!?!?
Soon after, I ate my 1st traditional African meal for lunch! It was matoki, white yams, beans and bread. It looked a little different, but was not bad. In fact it had no taste at all.
I ate with Matt and we had a really great talk. I really felt a bond. He is a good man. I pray we'll stay friends.
After the feast, Matt and I set up a "ropes course" game. It actually did not work as we had panned, due to using string instead of actual rope. We expected teenage moans and complaints, but the African teens were amazing. They LOVED it!
Patiently they would make their way through and smile the whole while! I have never seen such grateful attitudes.
Afterwards I took a walk and found the Rwebisengo choir practicing in the banana trees. That was an awesome surprise! They are just SO beautiful!
As the day winded down, the different youth groups presented skits, songs and dances they had come up with. WOW! (do I seem to be saying that a LOT?) Some were funny, others serious, maybe even a little scary. One group had a skit with demons in it. They made these AMAZING costumes from grass and plants. Their interpretation was VERY real.
They even had one about Samson (which I had preached on that morning! COOL! They listened! :)
Afterwards, Matt preached and had us get into small groups and pray together. I prayed with a young man from Kampala named Alpha Weanga. He wants to be a minister one day. I wonder what God is going to do with this amazing kid??
Praise the Lord…it was a blessing of a day!