Well. We got a day of rest today. It was good in many ways. But in some ways, I actually felt restless. I wanted to do some work. I found myself thinking "I raised money and support to work! Let's do something." Needless to say I realized this may not be correct, and thoroughly enjoyed the day we spent.
In the morning we just sat around outside on the lovely patio and chatted and informally made some plans for the next few days. It was a gorgeous day.
We were deciding also what to do with our day. Our choices seemed to be between spending a little cash and seeing some local "caves" of folklore and a waterfall, or spending a bigger chunk of money but going out to the chimp forest and seeing the monkeys. Matt and I leaned toward the monkeys (maybe we relate????) but we all ended up at the AMABEERE CAVES AND FALLS.
The drive out was fun. We weren't quite sure where we were headed, but Jonathan led us on victoriously! We actually found place, a little off the path with no problem. It cost us only$3.00. It was nice. To call it a "cave" was a little misleading. It was more like a "dent in the rocks". But it was pretty. The falls were small but we got to stand behind them which was cool.
Wilson, our tour guide told us some very interesting "fairy tale" like stories about ancient beliefs of the caves and falls. It was cool.
After, we drove back to the View and just chilled, listened to some tunes and read a little. The rest was WONDERFUL. Next we went back to Mountains of the Moon. I got to drive in Africa!!!!! It was a little weird with everything being on the other side, but not too big a deal! At the resort, we paid $6000 shillings and they allowed us to swim in their beautiful new pool.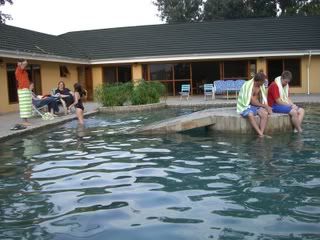 Swimming in Africa….that was surreal. The staff would bring us drinks to pool side. It felt a little weird to be treated like royalty to me. The sun decided to hide behind clouds, so it was actually a little chilly, but it felt great and it was nice just talking with the team, Andrew and Jeff.
The night closed with the wonderful Cheryl Cash preparing for us a Mexican feast! Man, it was SOOO good. So, tomorrow….back to work!