1-5-08
Last night was the big finale! I will not try and describe it to you, because you had to SEE it to understand. Just know it involved Greg in a fire suit, 200 "magic" glow sticks, flaming steel wool and launched grenades in to Lake Saaka.
Wow…like that, FQU '08 is over! I cannot believe it actually. All the prep work and prayers, all the travel and planning……and this is over. I praise God for allowing me to be here and I pray that HE was glorified these few days.
Breaking down camp was not as bad as you may think. We said goodbye, shook hands and hugged. We took pictures.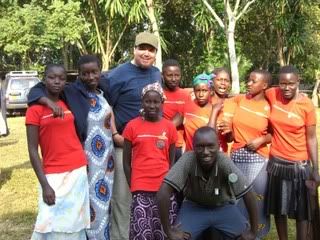 I wonder if our paths will ever cross again before our reunion in heaven (with Rwebisengo leading worship no doubt!!)?
So, with a little sadness and a little more relief in our hearts, we took off to the Cash home. We watched them open some late arriving Christmas gifts and then we unpacked all the camp gear. As boredom set in, us boys found some arrows and invented a nice little "Spear Toss" game. It was quite fun.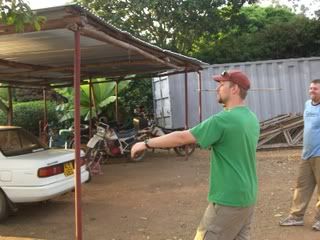 After the game we made it to our new home for the rest of the trip: The Ruwenzori Guest House.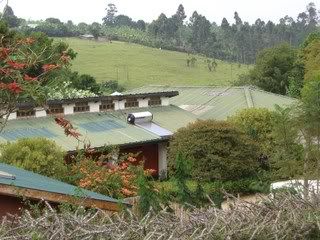 It is a beautiful little place run by a character named Morris. He is SO fun to be around, and it turns out quite the subject of local folklore and rumor! Can I say this: HOT SHOWERS!!!!! God bless you solar panels…..I was SOOO dirty! Our room flooded quickly, as apparently the drains don't work too quickly. And guess what…..it was STILL wonderful! The evening ended with a wonderful dinner and the meeting of new friends Doris and Petra from Switzerland.