January 3, 2008
Man last night was amazing. The night ended with the kids from the church in Kyenjojo bringing down the house! One girl was singing her heart out! The praises are still ringing in my ears this morning as I awaken. My body feels weak, but my soul is full of joy.
This morning I had 2 "firsts". One was sitting on the scary, dark, ant covered concrete slab called a toilet (in all actuality, I have seen MUCH worse). And then, I took my 1st real African "shower". Basically you fill a plastic tub with boiled green lake water and take it into the "shower hut". Then, you get down to the ol' birthday suit, squat over your bucket and commence to splashin'! J I am not sure how clean I got, but I felt like a new man……it is amazing what a little shampoo can do!
So, I entered the morning worship feeling like a new, clean man! This morning, the kids just seemed on fire! It was almost TOO much to take in. Matt again had us partner with a stranger and learn about their faith. I was with Tinah form Jinja. Hearing the story of her family and faith was amazing. Her parents are in Kenya, and are both from the two different tribes that at that very second were waging a bloody war in the usually tranquil Kenya! She was worried. Here is my friend Tinah:
Matt then asked the crowd "How do you know God loves you?" One girl said- "All 8 of my siblings have died, or been killed. But, I am still alive. God loves me."………………….HEAVY!
During the sermon, I sat next to a beautiful young village girl from Rwebisengo. She was tiny. I must have looked like Goliath to her. She would stare at me when she thought I was not looking. She then became fascinated with the bottom of my boot and absent mindedly began playing with it, for several minutes. When she looked up, I was looking at her. She blushed SO big like I had just caught her in something she should not be….then she broke into a HUGE smile I will never forget! I only know her right now as "SHOE GIRL", but I love her. When it was over, she got my attention, and very shyly waved goodbye. (more stories of "SHOE GIRL" will come later!)
Later in the day, Jeff and Cheryl split the guys and gals up and gave purity classes. This is unheard of in Africa. Things like sex are publicly ignored. You DO NOT talk about such things! Hence, HIV is killing the entire country! It was great though…several young men were touched, and afterwards, they prayed about it at the foot of the cross.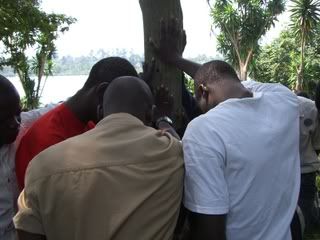 After lunch, I preached my 2nd time. It was ok, but the crowd was hot, full and tired. Still, they were attentive as I talked about the armor of God and even dressed a young man up in a costume. It was fun.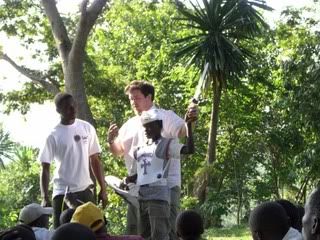 Next, (busy day huh) we had a game. They played a flour bomb war. You ever done that? You take a tissue, fill the center with flour, and then twist and tie it off. You then play capture the flag. To eliminate another player, you must hit them with your thrown bomb. They explode and get all over you……trust me, GREAT fun! Well, guess what……they LOVED it. I mean LOVED it! It was nuts.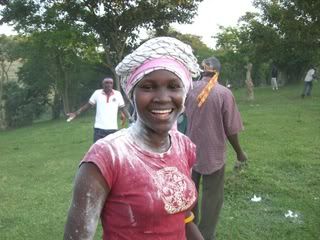 They were fast! And when the red team finally won (on some pretty shaky terms I might add) they went crazy! For a brief second, we thought we may have started the Uganda riots! They were yelling, jumping, cheering…it was so cool.
After this, we passed out their camp T-shirts. They were SO excited to get a new shirt. It meant the world to them. It was humbling to see such gratefulness.
So….after dinner, we were excited. We were going to walk into the village of Buhara (known in the not so far off past for its' witchcraft) to have a worship in the town center around a bonfire. The plan was to let the African kids take control and make it 100% native! So we walked down a DARK road (I am convinced the Ugandans have been blessed with an internal night vision), until we reached the village center. The kids then just let it out! They danced, sang, jumped, celebrated…….man they loved the Lord is what they did! At one point they began this fast manic run around the fire in a huge group. Matt, John and I jumped in to the action…it was GREAT!
Afterwards, we wearily walked back to camp. The BUSY and wonderful day ended with a few of us around the tents laughing our heads off to jokes of the "SMUT and GANDHI SLAP"…trust me, you HAD to be there! J
It was a great day. I feel very full of God tonight…and with that feeling, I shall sleep.