Today Jeff surprised us with a trip to the beloved village of Rwebisengo. It was a long hot drive, but we were SO excited for it! The road was scary! It was tiny dirt road along the steepest hills and canyons you had ever seen! Our job was top get to the bottom of those canyons, at the Congo border!
We stopped in a village called Irwerro to get a few things at their market. The air felt so thick to me. For some reason, at this point, my heart and soul begin to sink and my spirits were dropping quickly. This was the only day and place on the whole trip that I felt "SAD" abotu the people here. The village was just on the other other side of the mountains from Bundibugyo, where the Ebola outbreak was still going on. This village had directly felt the effects and you can sense this. But, we got some bananas and some meat and carried on.
We drove through the outskirts of Bundibugyo. It was so creepy…it was a wasteland. Everything was closed up and empty, including the World Vision headquarters. There seemed to be no life there.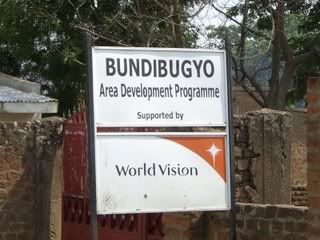 Finally, after a hard 3 ½ hrs., we arrived in this barren village. My spirits were lifted. Once again excitement took over. The beautiful people came out of everywhere! Beautiful children were everywhere!
We said hellos and soon the band and choir began to perform for us! And once again, we Americans were expected to share and preach again. I was second up. By this time I was feeling very sick to my stomach, so I kept mine brief, and pushed through. They were so encouraging. AMENE they would say. Next they sang some more and we all worshipped…..I cannot stress enough how amazing that is.
During the sermon I made eye contact with "shoe girl". Do you remember her? I was o excited! I caught her staring at me and made a face at her. She smiled and blushed and looked away. We prayed this game for the next ½ hr. or so. It was so cute. Later I found her and finally talked to her. She knew a little English! She is 12 and her name is Jaqueline. There was a connection that I will never forget. Before leaving, I broke a cardinal rule and gave her one of my dinky little black plastic bracelets. Here is my precious friend:
I want to tell you everything that happened but I cannot. It is one of those things you simply have to experience. I pray that each of you can one day. I will surely never forget it.
We said constantly there that we could NOT wait to meet them in heaven again one day where we were sure they'd be the ones leading the praise chorus! I am just going to pile on a bunch of pictures now of the gorgeous creations of God (the AMAZING one was taken by Johno and stolen from Matts blog I believe):