Last week was one of the hardest I can remember in my short 34 years. I want to share it with you, not in an effort to capture your pity (though that may be nice too), but to share what maybe I have learned from it.
It's been a tough year for us. It's just been a lot of separation, loss, and general stresses of life, coupled with pregnancy and a big move. And then came last week…….. My wife and I were scheduled to fly to LA and drive to Malibu Tuesday morning for the Pepperdine lectureships. It was a trip we had looked forward to for a LONG time. Jessie had been feeling bad for a few days, and each day it got worse. By Monday night she was so ill we knew she could not go. The struggle was wrestling with whether I should go or not. We decided that it would be good for my soul and ministry, and besides Jessie's mom was already in town to help with the kids, so I should go. I got to the airport at 6:15 am. I quickly found out at the counter that my license had expired some 7 days earlier (unbeknownst to me). So after pleading they decided I could fly but would have to undergo "extra security"…fun fun :). But, I remembered the rental car I was to get in LA. I called the company and they would NOT let me get the car. So, I had to move my flight back until 4:30 that afternoon and go spend time at the DMV….always a pleasure. Not a great way to start out.
But I got that out. Shortly later, both of my pregnant sisters went to the Dr. and/or hospital with possible serious complications. One found out she had a bad infection, and the baby was measuring WAY bigger than she should, so diabetes is a concern. The other had been on strict bed rest and things were getting worse….she actually was showing signs of labor and was put in the hospital for a few hours for more intense testing. So, there was some stress there.
Several things happened on the house we were to be moving into on Saturday (3 hrs after we were to fly back in from Malibu), including finding out that a contractor had dropped the ball and we would be getting NO kitchen on time. Jessie was getting worse and went to the Dr. to find out she was having some preggo issues coupled with stress and flu. Still, I decided to fly…….not feeling very confident in it at all.
The flight left on time and was good. I just felt weird, like I shouldn't be there. I wanted Jessie with me. I wanted my family to be okay. I just wanted some peace. But, I landed on time and even got to finish reading a book on the plane. The luggage was there immediately and I caught a quick ride to the rental car agency. My car was ready and perfect and I hit the crazy roads outside of LAX. Much to my surprise, finding Peperdine was a CINCH and I got there in about 40 minutes. Things were looking up at last!
I got checked in at about 7:45(I had never been there before…WOW it was nice!) and was feeling better. I ran out for some dinner and called the Jay, our pulpit minister from church that was also there. I decided to meet him in a class at 9 p.m. that sounded quite interesting.
The class was great! I was finally getting excited about the rest of the week. About 12 minutes into the class my phone rang and was it was Jessie at home. I went to the hall and answered it. My wife was crying, sounding terrible and surely in a mild panic. Now, it seemed my son Jude was being taken to the ER with some serious bladder problem and pain. WHAT THE HECK?!?!?!?!?!? He was not doing well, and Jessie was depleted. She asked me to come home.
Stressed and shaken I ran back to the dorm and started making calls. I was able to get a flight out at 9:00 the next morning. So….long story short…..just some 12 hrs after getting there I was checking back into the airport to come home. It cost a lot of money and turmoil.
The flight back home was heavy. It was a pity party.
Why are we having all these trials? What are you doing God? Why am I facing this garbage?
I had SO many questions! What I wanted to know most was this….
"WHAT IS IT YOU ARE TRYING TO TEACH ME.? PLEASE MAKE IT CLEAR SO THAT I CAN LEARN THIS LESSON AND GET ON WITH THINGS!!!!"
One verse kept playing over and over in my mind….John 16:33 "I have told you these things so that in me you may have peace. In this world
YOU WILL HAVE TROUBLE
,"… and this is the part that was playing over and over …but TAKE HEART!
I HAVE OVERCOME THE WORLD
!!" Like I said…those words were swimming in my head all over the place. But so far, they were in my head only.
As I was going through this thought process, I was looking out the window. Have you ever been in a plane and seem the plots of land below? They look so cool from way up high. They are perfectly formed into awesome patterns. Crops have clear borders and colors. They are organized into squares and circles. Cities too. From 10,000 feet it all looks laid out perfectly. They look like the perfect organized grids with NO problems in getting around. Funny thing is though; at ground level…it looks totally different! You would never know that you were in an "organized system". Traffic, trees, etc…they blur that vision and what we see is chaos and busyness. Only when we can separate ourselves from it all and fly way above, can we clearly see how it all works and how it all works out perfectly as planned.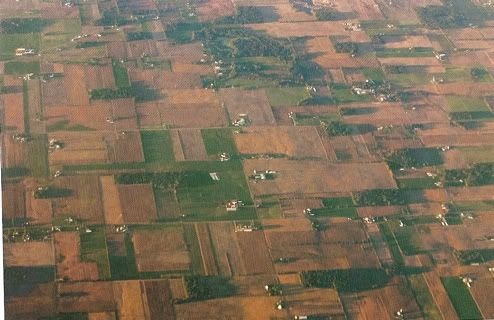 It hit me then and there. This is what I am going through right now! I am "on ground level" and it seems like chaos. Life is blurring the line of vision and NOTHING looks or seems organized at all. But, if I can have the trust, faith and discipline to put my life in the hands of the Father and let him "lift me above" this all, I can clearly see that it is all going to be okay, and that it is part of a huge and perfectly laid out system. All I have to do is find the way to fly so that I can believe this. Life is going to be okay! God laid it out perfectly long ago. Yeah, wrecks, power outages, construction etc will mess up travels and directions briefly, but they will always be worked out in time.
"Take heart! I have overcome this world"
began to leave my head and sink in to my heart. I believe that Jesus is with me. I believe that God is in control. I am trying to learn. I am trying to listen.