1-13-08
It is the last day at the FP Church. I am going to miss these people and this experience of praising God with them. It was bittersweet in church. I could watch Derrick lead worship all day long. I cherished every moment in my prayer group with Earnest, Derrick, Martin Luther and Agnes.
I had the honor of doing the call to worship today. Following this Cheryl shared a prayer for a beautiful little girl named Anna Marie who'd been having serious medical problems but is doing better. It was a great morning.
During the service I quickly began to feel terrible. I was burping up rotten eggs, had a fever and shivers and was sweating. My whole body got tired, achy and sore. I prayed and prayed that I was just tired, as I do NOT want to return to my family feeling ill. I want to go back to OR healthy!
Church was so good. Matt gave the sermon and did a wonderful job. Afterwards, we went and got sandwich stuff for lunch before taking off to the Game Park. I was still feeling nasty. I took some Advil and had a 102 fever.
By the time we took off, I was really sick. I was trying my best to stay positive, but the prospect a few hour drive was not sounding great to me. I just hope I do not miss out on our "vacation" part of the trip.
The drive was okay. Mweya Lodge is beautiful.
On the way in we saw deer, elk, birds, warthogs and buffalo. We even saw an elephant on the side of the road!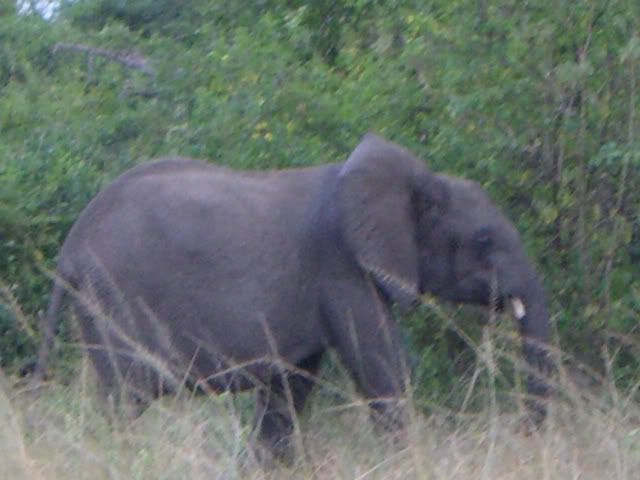 I skip dinner and go straight to bed. Let's hope tomorrow is better!