Well….It was only a matter of time. I awoke today to the "Rwebisengo Runs"….all I can say is thank you God for Rafiki toilet paper!!!!! And, thank you God that it seemed to go away pretty quickly. Today we are going to start ministering to he local community here in Ft. Portal. Tomorrow night we will preach at the new property and follow up it up with a showing of the Jesus film in their native Torro language! So, our plan is to go door-to-door (though many of the homes have no doors), invite folks, tell them about the church coming in to the neighborhood, encourage them, and pray for them.
We met in the morning at Jeff's place, where he and Derrick gave us more history lessons on the history of religion in Ft. Portal. To be honest, after the talk, I felt a little helpless. There are SUCH GREAT hurdles to jump here! These families here face MONUMENTAL tasks daily!! We should be praying for them without ceasing!
After the talk, we went to The Gardens Restaurant for lunch. I was still feeling quite green, but was starving. SO I ordered a grilled, shredded beef sandwich. It was SO SO SO good!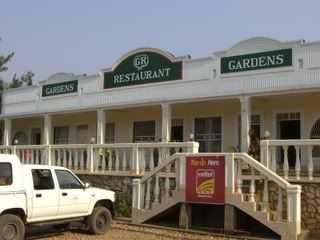 The best meal I have had here by far! While we ate, they washed Jeff's car (using green river water). It was nice to dine with friends in the sun and enjoy the day.
After the food, we headed to Kagote to pray at the church property. We prayed fro the outreach we were about to begin. And then we got into "teams" for the task at hand. I have to tell you….door to door ministry is probably my GREATEST fear in the world! I can preach to 200 with no problems, but one on one I get scared to death!
My team consisted of myself, Greg Woods, Sunday and Bright. We took off to conquer our "neighborhood". I was scared to death though I tried my best not to show it. It was AMAZING! The African teens were unreal at approaching people. The locals were amazing! They were so loving, welcoming and gracious. "You are most welcome men of God" they would say. It was very humbling. "Give us a word from God". They would invite us in, hold out hands, and treat us like friends. We would talk and share. We read some for the Bible and then we circled up and prayed for their families. It touched me SO DEEPLY! In fact, I would say this day was the biggest blessing to me on the whole trip. I was amazed at how open and hungry for truth these beautiful people were!
It was just a wonderful day. Greg and I were "prayed over" in an interesting manner (I am still not sure if we were cursed or not). We also met a tiny little opposition from the 7th Day Adventist school of thought. But, it was wonderful. As we headed back to the property we met another of our teams. We walked back together. Patrick held my hand all the way. It was cool.
Praise you holy name for today Father! Give me the courage to always be so bold in your name!