As the months pass by quicker than I can fathom, I find my mind drifting back to Uganda more and more. It is funny how 3 weeks there make one think that they are part African! Any talk of this region of the world and a small swell of pride rises inside me, as if it were MY land. I love the place. It did get in my blood and it shall never leave.
Now, 3 months later. I am surprised how much I am missing Uganda. I miss the slower lifestyle. I miss the spiritual fervor. I miss the beautiful people. I miss the land. I just miss it. In fact, lately, it is all I can think about. I dream of the day I can return.
So, as I have been reflecting on these weeks I want to capture what I learned. I am STILL trying to process it. But, I want to reflect on my time spent there with my team. I got to know 5 amazing friends in Uganda. As I can now look back with a little clarity, I am able to see the ways they touched me. I want to capture these thoughts so they will never leave me. I love these people. I pray to be with them again some day.
Jonathan Thomas is an amazing man of God. I am convicted by his passion and energy. I love his humor. He is so talented. He is an amazing artist in MANY ways. I love his stubborn passion for things important to him. I admire his work ethic. He is a great father and husband. I have met fewer people so open to God's direct leading of their life. I truly believe he is doing things in his life to change people he comes in contact with. I am so thankful he has played and will play a role in my life.
Jenna Graham knows how soft a Koala bear is. :) I am blown away at the spiritual maturity of someone so young. I love how she can talk to anyone anywhere at any time. She can relate to an old man on a plane and invite a Swiss stranger to church with no hesitation. She exudes a beautiful innocence. She is confident. She constantly seems to be learning. She is happy and makes others around her happy. She has a beautiful smile. And children are drawn to her like she is a magnet. I am grateful to call her friend.
Greg Woods is a literally an icon. I knew his name long before I knew him. He may have the most tender heart I have ever met. Wisdom seeps out of his ears. He LOVES people and wears that love on his sleeve. He has seen everything in his ministry and is a wealth of knowledge and ideas. One of the things that impresses me most is how he gives EVERY person the chance to speak and shine. He makes every kid he comes into contact with feel like the most special kid in the world. What a quality! The impact he has had for God's kingdom is truly immeasurable. I pray that my legacy can be even HALF of his one day. I thank God for Greg Woods.
Wendy Goodyear is one of a kind. She is really smart. She has seen and done a LOT. She has traveled the world. She loves, I mean LOVES young people. And she too draws them in. She is incredibly giving. She is so creative. She is also very strong of heart. She has a presence that can command attention yet you never feel threatened or silenced. She is worthy of respect. She is a role model for young girls. I love her heart and how she has embraced everything life gives her and uses it to minister to people. I am so glad I know Wendy.
Matt Tibbles is a good man. I admire Matt's level of spirituality. I love to hear him pray, and wish I could pray like he does. I am blown away by his spiritual discipline and how he can embrace activity or silence. I love his strong will to stand up for what is right. He is not swayed by popular opinion; he is what he is and no fad will change that. He is a great preacher. I don't think he even knows that! Matt wants the world to be fair and I think he is working hard to do his part. I believe Matt Tibbles will be known in this world as a man of God seeking to make the world better than when he came into it. I love my friend Matt.
I could go on for hours about these amazing people. I truly thank God for letting me watch them and learn from them. I pray that this was not my only chance to work with these guys. I cannot wait to continue watching the impact they have on young people in the NW. I hope I can offer them something for all they have given to me. Many days I wish I was still in Africa with them.
Uganda is just so amazing. It is a living and breathing paradox. It is the most gorgeous and beautiful place on earth but at the same time is can be the ugliest. It is full of the most beautiful souls I have ever met but also full of the darkest evil you'll ever see. There is optimism everywhere yet hopelessness surrounds you at every corner. There is happiness seeping from cracks of huts but the same huts are clouded by despair. You cannot understand it until you have been there. Even then you cannot put it in words. It is truly amazing.
There is a hunger there that consumed my soul and will not let go. There is a hunger for truth. A hunger for peace. A hunger for love. A hunger for good. A hunger for God.
These lyrics are from a song by Paul Colman. They speak great truth:
I came to change you but instead you changed me
And I confess I came to frame you in a photograph
But you showed me why
And you turned this heart around
And I see your smile how it can be
So much brighter than me
And your silent eyes they scream
Of hunger and meaning and eternal dreaming
Africa
Africa
We smiled at you from behind the glass
And without reserve and whiter than snow
You smiled back at us
And you showed me who
And you turned this mind around
And I see your hands reach out to God
So much higher than ours
And your silent eyes they scream
Of hunger and meaning and eternal dreaming
Africa
Afrika mimi naku penda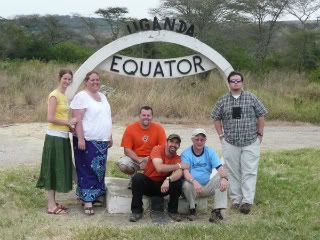 I am hungry to go back. Uganda I love you. Matt, John-O, Wendy, Jenna and Greg- I love you too. Thank you for changing me, touching me and rocking the very core of my soul. "Turn the radio up for that sweet sound. Hold me close never let me go…" 