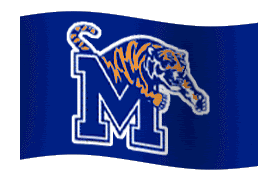 I grew up in Memphis. As such, I have been a die-hard Tiger fan since I can remember walking. I can name all the great players you have never heard of, like the Baskervilles, Askews and Dooms! I went to many a game at the Mid South Colisseum and then the Pyramid. Two years ago when visiting family, I got to see a game in their new home at FedEx Forum. They are MY team.
Well....tonight they play for the national championship! I am SO excited! The last time this happened, that hippy Bill Walton ruined all Memphis dreams. But, that was some 35 yrs ago!
It is 2008, and Kansas better look out!
GO TIGERS GO!