What a great week we have had! We finally took a few days off and just got to be together. It was a wonderful blessing. SO this post will ONLY be me talking about our few days together….if that bores you now is your chance to leave! J So we had some friends come in from Colorado to visit so we had a bunch scheduled. Monday night we got a sitter for all 5 kids and the adults went on this thing called a "date". You should try it! It was wonderful food and terrible putt putt
but man did we have a grand time. The next morning we headed off to the coast for some fun and relaxation. It was WONDERFUL! We went to the redwoods my fave place) and visited a place called "Trees of Mystery". I highly recommended it. It is a nice hike through amazing trees and then a crazy gondola ride way up to the top of the mountain. The kids loved it too!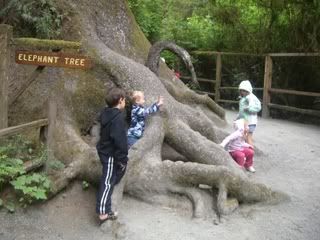 After that we checked into our "cabins" in Klamath, CA. They were pretty shabby but I LOVED them. This is where my trip to Africa has had profound impact. Years ago I would NOT have been happy about these, but now…man I am glad to sleep there. It is hard to complain when you know that literally, the majority of people in the world would KILL for a "house" like that! We had a blast. We cuddled up, ate donuts and watched a few cartoons. Then we played on the cold beach. The kiddos loved getting chased by the tide! The evening ended with some great fish and chips.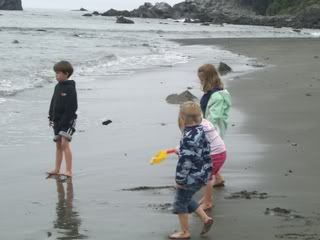 Wednesday we headed out to Ocean World. It is basically the trailer park version of Sea World J, but it's fun. The kids love it and they even get to pet a shark!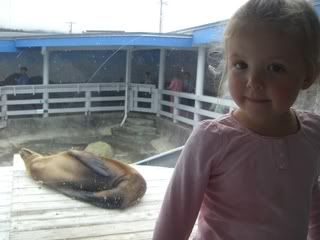 We spent awhile there before heading out to the Battery Point lighthouse and boardwalk.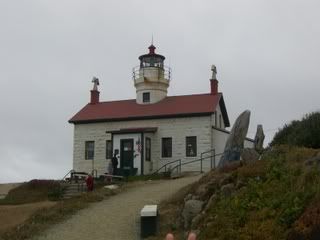 It was BEAUTIFUL! We got to see some beautiful views and watch fisherman and crabbers haul in their loads. We then had lunch, hit the beach again, and then headed back home.

Thursday we had a special treat! We all went on the Hellgate Jetboat trip. It is AWESOME! They fly you up the river in a jet boat over white ripples and calm waters. They jump and splash you all wet. Then they drop you off a beautiful restaurant in the woods for a great lunch. If you guys come visit, we'll totally go again! L The kids loved it (especially Jude).
So…………..that was it. There is much more involved….I could go on forever. But I am very grateful for these few days. After a crazy summer, they were a great blessing to me! God is so good and life is so beautiful.