Whether it is my own struggles with truly giving my worries to the Lord, or just general weariness, I still do not feel like getting very deep or theological on here. So instead,let's discuss something very shallow: holiday movies. What are the best Christmas movies???? While the classics are great, modern cinema has given a few gems too......here are 5 faves
5-It's a Wonderful Life-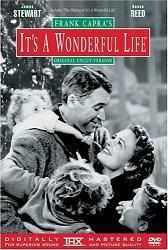 Call it cliche, or predictable, but I have loved this since I was a kid. There are so many lessons in this...and one life truly can make a difference!
4-Scrooged-
A spoof on the Dickens classic, Murray rules at the protagonist you love to hate!
3-A Christmas Story-
Yes...another predictable one, but I cannot help it, this warms my heart and makes me laugh!
2- Elf-
Modern classic!!!!!!!!!! I love Buddy the Elf. Behindthe goofy laughs, there is actually a sweet story.
1-Christmas Vacation-
One of the funniest movies ever! I can almost quote the whole thing. No Pannell Christmas is complete without at least 1 viewing.
Honorable mention:
Polar Express
Muppet Christmas Carol
Die Hard
Tell me what you think!